Review
Score
9.8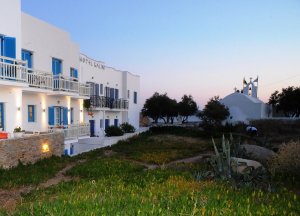 In Naxos Island, only 30 metres from the beautiful sandy beach of Saint George and at a very convenient point, Hotel Galini is one of the most hospitable accommodation on the area.

It is located right next to all amenities, 300 metres from Naxos Town center and a few metres away from the sandy beach.

The hotel is built according to the island architecture standards, with a touch of blue on white. Just enough to make you feel you are in a Greek Island.

The view from the hotel is more than magic and there is nothing best and idyllic than watching the unique sunset from your own balcony.

The whole environment is tranquil to give you the relaxing moments you wish while in holidays.

The rooms are spotless clean, with own bathroom, balcony or veranda, equipped with air-conditioning, satellite TV, hair dryer and direct dial phone.

You are more than welcome to our hotel and we are sure that your holidays will be memorable.

Availability
No availability could be found for the dates you enter. Please search on different dates.
Facilities and Services
Breakfast, TV Lounge, Internet Access - Wireless (Free of charge), Car and Motorbike Rentals, Fax Service, Reception, Internet Access, Credit Cards accepted, Laundry Service (extra charge), Breakfast Lounge, Safe, Internet Access - Wireless, Air-Conditioning, Living Room, Dry cleaning service (extra charge), Safe Boxes