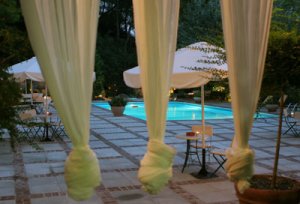 Due to its magnificent panoramic view to the valley of Ancient Olympia, also known as "the Valley of the Gods", as well as to the high-quality service, the recently renovated hotel Antonios is a unique choice for those who always seek the best.

In all grounds, simplicity is ideally balanced with luxury, bringing out the high level of services. The rooms are functional and they offer all the essential comforts even to the most demanding customers.

In Hotel Antonios, emphasis has been given to providing a comfortable and cosy stay. The visitor enjoys the discreet service and the quiet atmosphere, which is due to the hotels location in the forest.

Hotel facilities and Services include: Swimming pool, 24hr service, Express Check out, Exchange Currency, Air Condition, Disable facilities, Conference facilities, Banquet room, Bar, Lounge area, Free parking, Doctor on call, 1km far from the city center.

All the rooms are decorated in such a way that they offer a warm, calm atmosphere, making your stay unforgettable. The functional design, combined with the most refined aesthetics and the magnificent view, will amaze you!

Room facilities include: Cable TV, Hairdryer, Mini bar, Direct dial phone, 24hrs Room service, Air Condition.

In the elegant restaurant of the hotel, the colours and the warm light of the candles compose a unique atmosphere. Taste the chef¢s astonishing gastronomic creations and enjoy delicious salads with aromatic herbs, scallops with oyster broth, as well as risotto with lime and crispy slices of prosciutto.

The hotel bar will offer you a relaxing moment and you will enjoy a soft drink or a cocktail. If you prefer a cooler place, you can choose either the swimming pool or the veranda with the spectacular view in the mountains.

For those who want to combine business with pleasure, hotel Antonios offers a conference centre with a capacity of 300 persons. It is equipped with systems of high technology that can meet the needs of professional meetings. Moreover, there is also a centre for business support, equipped with PC, fax and internet service.

Luxuriate in the swimming pool, relax with an impressive cocktail and enjoy the view to Ancient Olympia. Here, nature has the first word.


Availability
No availability could be found for the dates you enter. Please search on different dates.
Facilities and Services
Barbeque, Pool Bar, Internet Access - Wireless (Free of charge), Garden, Bar, Manicure/pedicure (upon request), Daily Maid, Fax Service, Reception, Lobby Lounge, Laundry Service (extra charge), Breakfast Lounge, Internet Access - Wireless, Snack Bar, Living Room, Fireplace, Swimming Pool, Hairdresser (upon request), Breakfast, Post Office Service, TV Lounge, Lift, Dining Room, Credit Cards accepted, Room Service, Dining outdoor area, Roof garden, Air-Conditioning, Doctor on call, Restaurant, Safe Boxes
Policies
RESERVATIONS POLICY:
50% of the total amount deposit is required.

CANCELLATION POLICY:
Cancellation up to 10 days before arrival: full refund of deposit.
Cancellations within 10 days of arrival, no show or after arrival: No deposit refund