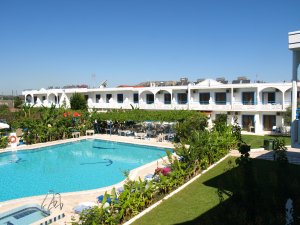 The GARDEN PASTIDA HOTELS is a family run business which offers a warm and clean environment
at low prices.
It is ideal for people looking for a peaceful and quiet family atmosphere and good service.

It is situated in the Filerimos Valley of Rhodes Island close to the airport.The busy centres of Rhodes
and Faliraki are only fifteen minutes away but the Garden Pastida Hotel provides an oasis of calm
away from the uste and bustle of those towns .

The Garden offers small but entirely self contained suites with all the usual amenities
The hotel earns its name from 10,000 square metres of Gardens in which crow fruit trees, providing
produce for every season. The whole is complemented by two swimming pools, the larger being
one of the biggest in Rhodes(some 830,000 litres of water)and is equipped with the best facilities.

The smaller pool, designed especially for children, is close to the bar and restaurant and is supervised
by our stuff. There is also a children¢s playground.
Our restaurant and outdoor dining area serve only fresh meats and homemade meals,We also have
a mini market for all your day to day needs and our lounges have the latest satellite TV
and Internet connections.


GARDEN hotel has comfortably rooms with balconies, private automatic telephones, kitchen,
refrigerator and bathroom.

At the back of the hotel, there are two swimming pools and 10,000 square meters of garden
and orchard with trees and fruit from every season. The children's swimming pool is supervised
by the bar and restaurant staff and the main swimming pool is one of the biggest in Rhodes island
with a capacity of 830,000 liters of water, a diving board, a slide and high pressure
(new technology) water massage equipment.
More over, there are: A bar, a restaurant and grill house with home-made food and fresh meat,
two TV rooms, a Mini Market, and a playground.


Availability
No availability could be found for the dates you enter. Please search on different dates.
Facilities and Services
Barbeque, Garden, Bar, Car and Motorbike Rentals, Fax Service, Reception, Childrens Play Ground, Breakfast Lounge, Safe, Snack Bar, Motor bike Rentals, Living Room, Swimming Pool, Breakfast, Post Office Service, TV Lounge, Swimming Pool for Children, Internet Access, Dining Room, Credit Cards accepted, Conference Room, Jacuzzi, Billiards, Dining outdoor area, Air-Conditioning, Mini market, Doctor on call, Games room, Greek Evening, Events, Restaurant, Souvenirs shop
Policies
RESERVATION POLICY:
4 Days stay and over: 25% deposit
3 Days stay: 33% deposit
2 Days stay: 50% deposit
1 Day stay: 100% deposit

CANCELLATIONS POLICY:
Cancellation up to 14 days before arrival: full refund of the deposit.
Cancellations 14 days of arrival, deposit is retained.
No show: 50% of total is charged.