Review
Score
9.3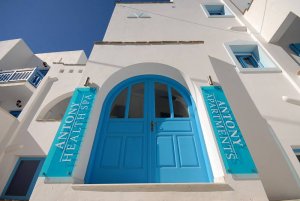 Antony Studios, Apartments & Spa is perfectly situated on Saint George Beach, in Naxos-Hora. The beach location of this complex allows guests to enjoy the turquoise water of the Aegean sea and have a memorable holiday in Greece.

Enjoy your holiday just steps away from the beach in your studio (for 2 up to 4 people) or apartment (two-roomed, for 2 up to 6 people). Each one features a comfortable living area, ecological mattresses, fully equipped kitchen, safe box, TV. The large apartments also feature marble floors.

Antony Studios, Apartments & Spa offer all your home comforts and excellent spa facilities to ensure well-being and relaxation. There is a high-tech thermal mud cabin, a dry water massage water bed, and a hydro-massage bath for total recreation including aromatotherapy, thalassotherapy, katharsis. Free wireless Internet access is also available to guests.

The accommodation is right next to beach restaurants, beach cafes and shops.

Availability
No availability could be found for the dates you enter. Please search on different dates.
Facilities and Services
Ironboard, Post Office Service, Tour and excursion booking, Internet Access - Wireless (Free of charge), Manicure/pedicure (upon request), Daily Maid, Car and Motorbike Rentals, Fax Service, Reception, Laptop upon request, Spa, Phone Service, Heating, Credit Cards accepted, Sauna, Laundry Service (extra charge), Massage sessions (upon request), Spa, Activities, Iron, Air-Conditioning, Daily Maid (except Sundays), Transfer, Motor bike Rentals, Dry cleaning service (extra charge), Hairdresser (upon request), Safe Boxes